St-Rémy Brandy releases its newest expression, 'Finished in Calvados Casks'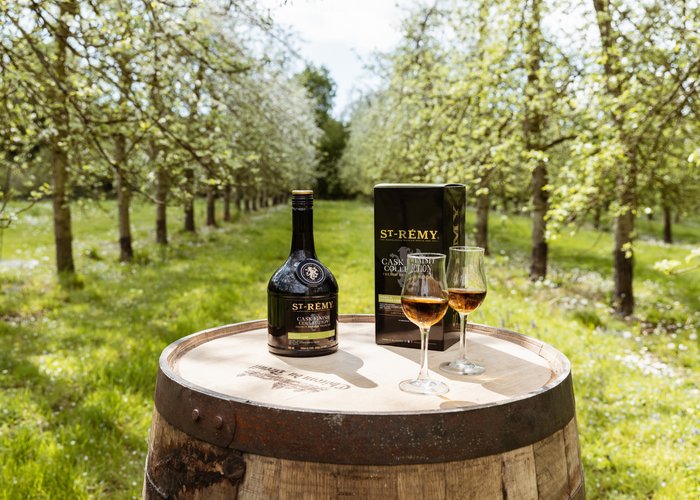 St-Rémy, the world's number one French brandy, presents its latest addition to its Cask Finish Collection, 'Finished in Calvados Casks'. This limited-edition new serie will release only 12,850 individually numbered bottles, featuring Master Blender Cécile Roudaut's signature.
St-Rémy's Cask Finish Collection – which first launched in 2018 – has been celebrating the brand's Master Blender Cécile Roudaut's expertise in maturing brandy in various types of casks. The collection is true to St-Rémy's heritage in distilling, aging, and crafting elegant French grape brandies since 1886.
This year's launch follows the success of the previous limited editions amongst which the most recent were the Port Cask Finish, the Sauternes Cask Finish and the Sherry Cask Finish.
The newest release was created in collaboration with Château du Breuil, the world-renowned Calvados producer based in Pays d'Auge, Normandy (France). Matured in barrels that have been previously used in the production of Calvados, the famous French cider spirit, St-Rémy 'Finished in Calvados Casks' is elegant and mellow, and shows notes of fresh and cooked orchard fruits, vanilla and almonds with a dark yellow colour and golden hues.
The 'Finished in Calvados Casks' limited-edition collection from St-Rémy will be distributed in Canada, Taiwan, Poland, France, and Mexico, and in duty-free stores in the UAE, Qatar, Singapore, Australia, and Thailand starting from October 2023.
St-Rémy 'Finished in Calvados Casks' Tasting Notes
Appearance
Dark yellow with golden hues.
Nose
The notes of fresh orchard fruits are balanced by the gourmet aromas of vanilla, apple pie and a hint of almond.
Palate
Upfront fresh and cooked apples and pear notes, followed by spices such as vanilla, nutmeg and almonds. The finish is subtle and mellow, full of finesse.