Discover Sauternes Casks Finish, the newest addition to the St-Rémy brandy Cask Finish Collection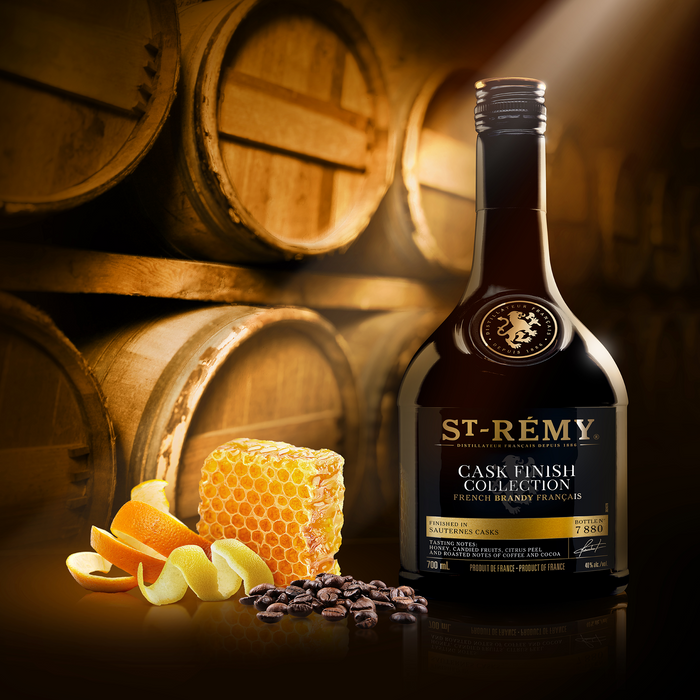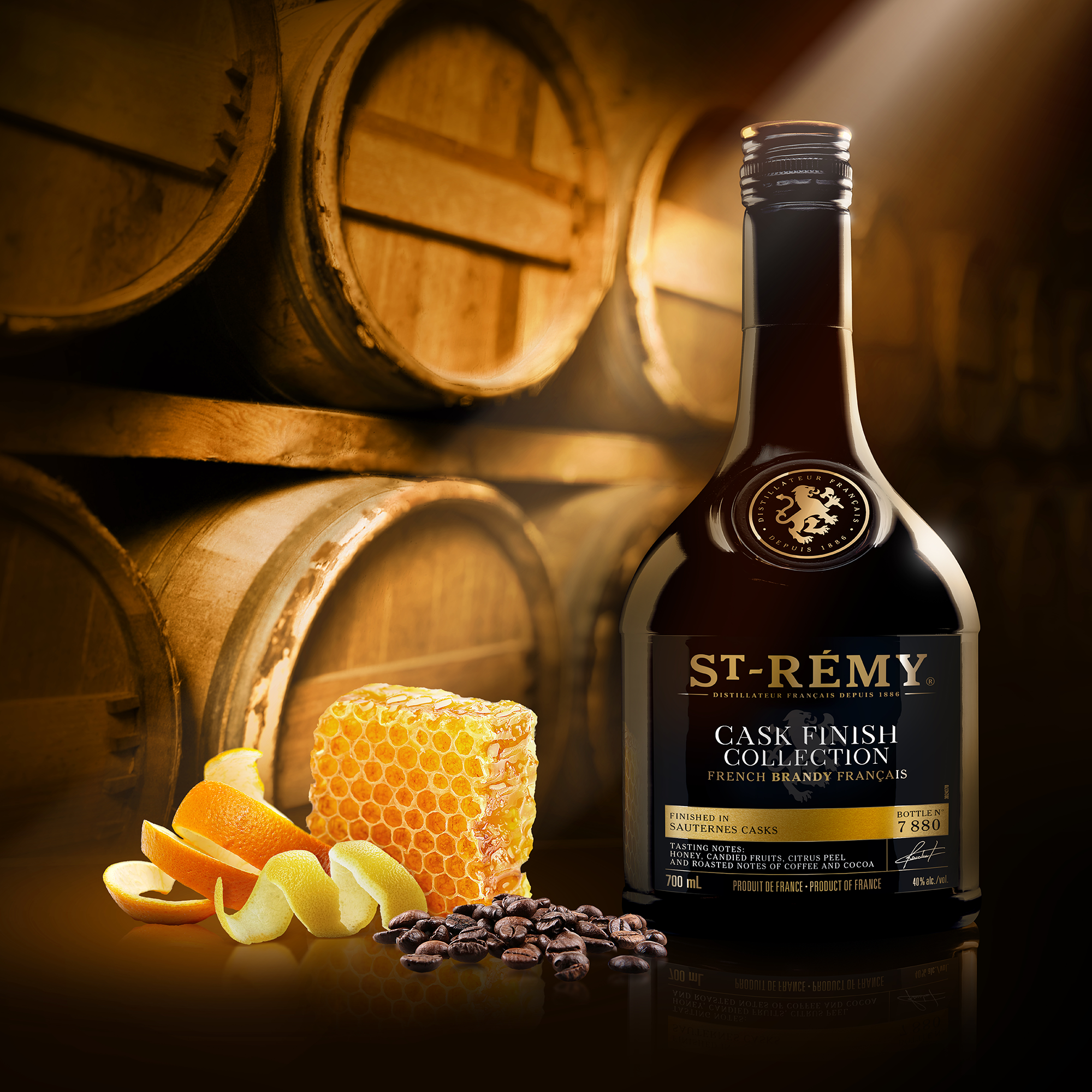 The world's leading French Brandy will also be launching its Barbados Dark Rum Casks Batch N°2, both available from September 2021
St-Rémy, the world's favourite French Brandy, is set to release two additions to its limited-edition Cask Finish Collection this year. The first is made with Brandy finished in oak casks that previously held Sauternes - French sweet white wine, made mainly from semillon and sauvignon grape varietals. With only 7,880 bottles made, this deliciously smooth Brandy makes clear the world-leading expertise and innovation of St-Rémy Brandy and its Master Blender, Cécile Roudaut.
The Sauternes Casks Finish is St-Rémy's mellowest offering yet, with elegant notes of honey, candied fruits, citrus peel and roasted notes of coffee and cocoa. The nose is well balanced, and the palate is fresh at first, with a long, sweet finish. Notes of honey, flowers and citrus linger.
Says Cécile Roudaut, "By finishing St-Rémy Brandy in ex-Sauternes Casks, we have created an incredibly mellow, smooth liquid I am endlessly proud of. This expression is true to St-Rémy's heritage in crafting elegant French grape brandies since 1886, whilst still providing something utterly unique, for those looking to venture beyond the borders of traditional French Brandy flavours."
St-Rémy is also incredibly proud to present the N°2 Batch of its Barbados Dark Rum Casks, the anticipated follow-up to its original release in 2019. The Barbados Dark Rum Casks Batch N°2 gets its name from an aging stage in a new selection of drums that previously contained dark rum from Barbados. The collection is limited to only 4,600 numbered bottles, and is amber in colour, with reflections of sepia red. The nose boasts gourmet notes of coca, vanilla and coffee, with a palate that is soft and round with lots of length and balance, and the aromas of chocolate and vanilla pod.
Cécile adds, "This Brandy, aged in Barbadian Rum Casks, is designed to be discovered with close friends and family, in an intimate setting. Best drunk neat or with ice, it is the perfect gift for spirits lovers, with bold new flavours that take you on a journey of discovery through flavour." 
These two latest creations by the world's leading French Brandy (IWSR 2020) are testaments to the innovation and vast expertise of Cécile Roudaut, who introduced the limited-edition Cask Finish Collection in 2018. Launching with the French
Chardonnay Casks in 2018, this was quickly followed by the Cabernet-Sauvignon, Islay Scotch Whisky Casks, and the first batch of Barbados Dark Rum finishes in 2019, and the Oloroso Sherry Casks in 2020.  
Each unique offering exhibits Cécile's vast knowledge with regards to the interaction between Brandy and casks, and whose two and a half decades in wine and spirits lends itself perfectly to the task. Since the launch of the super limited-edition collection three years ago, each addition has been an exquisitely crafted testament to the innovation at St-Rémy.
The St-Rémy Sauternes Casks Finish will be available in GTR India, GTR Singapore, Canada, Taiwan, Russia, Mexico and China. Following the successful exclusive release of the first Barbados Dark Rum Cask Finish with LCBO in Canada, Batch N°2 will be on sale exclusively through Société des Alcools du Québec. Both limited-edition expressions will be available from September.
The St-Rémy Sauternes Cask Finish Tasting Notes
Appearance
Honey, golden with pale amber hues.
Nose
Well balanced notes of honey, coffee, dried and candied fruits, orange peel and brioche.
Palate
Fresh taste first, a long finish with sweetness. Notes of honey, ripe fruits, flowers and citrus peel.
The St-Rémy Barbados Dark Rum Casks Batch N°2 Tasting Notes
Appearance
Amber color with reflections of sepia red.
Nose
Gourmet notes of cocoa, vanilla and coffee go perfectly together with roasted notes of toast.
Palate
Soft and round with lots of length and balance. The aromas of chocolate, cocoa, vanilla pod and dried fruits are enriched with notes of roasted and oak wood.